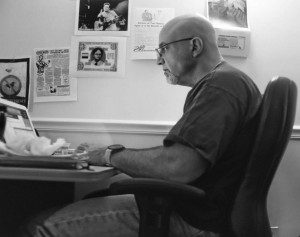 I was born and raised in Chicago — a Cubs and Bears fan — on the city's near west side. In 1979, I packed up my things and headed downstate to college where I became studied in the liberal arts and various other bad habits you pick up when you're 18 and 300 miles from home.
At checkout, my venerable institution of higher education bestowed upon me a Bachelor of Arts degree in English with minors in Economics and Speech Communications. And a past due bill for about a week and a half of un-paid meals at the dining hall.
In 1983, after squaring up with the folks in billing, I took my literary training back to Chicago and landed a job on the floor of one of the largest futures exchanges in the world. (Hey, work was work.) I spent the next 16 years working in nearly every capacity in the business, advancing my way from clerk to analyst to broker.
Trading Pits for Bits
By the end of 1999, things on the floor started to slow down and a new technology began to take rise. Having a little more time on my hands than I was used to, I opted to broaden my skill set a bit and investigate some other opportunities and challenges. I took my literary and now financial experience and signed on with a leading international software vendor who was setting up shop in the U.S. We provided what was then truly cutting edge technology — connectivity to electronic markets around the world and trading functionality the likes of which had never been seen before.
While there, I worked to promote this new market model from its very beginnings and rose to the position of product manager of North America. In that capacity I got all into technology architecture, APIs, software functionality, development and testing as well as selling a mission critical, enterprise level trading application. During that time I oversaw our product's connectivity expand from 16 exchanges worldwide to over 40 with a proportionate expansion in trading functionality as well.
A Brief Intermission
But six and a half years later, I again found myself looking for a change and a new challenge. I decided it was time for a little more radical step.
I resigned my position, sold my condo and took off traveling around Europe and the U.K. for five and a half months. Chuck's "World Pub Crawl" if you will.  A little time to see the world, visit old friends, meet new people, soak in some local customs (and beverages) and thoroughly recharge. Pay sucked, but I wouldn't change it for the world.
I got home in the spring of 2006. That's when I started writing full time…